Young students investigate "crashed UFO"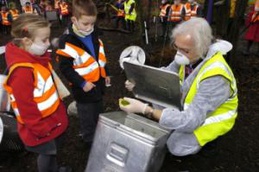 From left, Bobbie Lloid and Connor Morris examine some alien debris with Ian Carson. Photo: Ian Park
A primary school in England is using a "UFO crash site" to stimulate student learning.
Word went out that a fallen space probe was "discovered" in woods near the school, and students were encouraged to investigate the wreckage to look for clues. They found "slime", "goo" and "eggs."
The school's teachers are delighted with the results.
Barbara Jordan of the Runcorn and Widnes World reports:
RUNCORN children were shocked to discover aliens had crashed outside their school.
In masks and high visibility jackets, pupils at Westfield Primary School were challenged to become crime scene investigators as they explored the UFO.
Julie Metcalf, foundation keystage one co-ordinator, said: "A space ship landed in our forest and the children went out to investigate.
"They used bleeping machines and magnifying glasses and found alien goo, green slime and eggs.
"They were very excited."
Pupils had been studying a space topic 'to infinity and beyond' when this unexpected drama unfolded.
Mrs Metcalf said: "It really caught their imagination and has acted as a wonderful learning stimulus.
"Boys who are sometimes reluctant to write have been writing pages of newspaper reports.
"So much has come out of this. It has brought science to life."
Every child at the school in Clayton Crescent will continue to explore the unknown as alien adventures run all week.