Witness to Travis Walton abduction to speak this month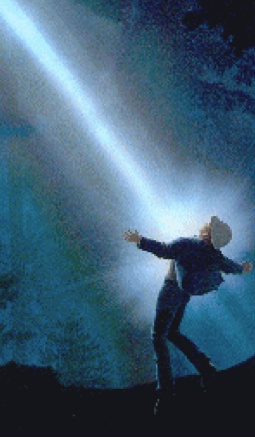 Travis Walton encounter
Travis Walton's UFO encounter is considered to be one of the most important UFO abduction cases on record.
A witness to the event will speak publicly for the first time at this month's International UFO Congress in Arizona.
Walton was a member of a logging crew driving home through in a remote forest outside Snowflake, AZ, on the evening of November 5, 1975, when they spotted a large, saucer shaped craft just off the road and hovering a few feet off of the ground.  
When the crew stopped their truck to take a closer look, Walton, then 22,  got out of the vehicle , and against the wishes of his crew mates, walked toward the object.  
He was only a few feet away from the UFO when it emitted turbine like sound. As Walton began to back away, the object struck him with beam of light that lifted him off the ground and propelled him 10 feet backwards. Walton fell limply to the ground. The crew, thinking Walton had been killed, panicked and drove off.  When they returned a few minutes later, both the object and Walton were gone.
Walton was missing for five days, despite an intense police search. The event became international news.
On November 10, Walton's brother-in-law, Grant Neff, received a late night phone call from a weak sounding caller claiming to be Walton.  He asked Neff to pick him up at a gas station a few miles away in Heber, AZ.  Neff found Walton huddled in a phone booth, unshaven, weak and extremely distressed.
Local authorities were skeptical of Walton's story.  Members of the logging crew insisted the event happened, and submitted to lie detector tests.  The results were hotly debated.  Over time, Walton's claims have been generally accepted by the UFO research community.
The event was later portrayed in the motion picture,  "Fire in the Sky."
One of the members of Walton's logging crew, John Goulette, will speak publicly about the incident for the first time at the International UFO Congress in Fountain Hills, AZ, on Thursday, February 23, 2012.
Goulette will join Walton on-stage and give his own firsthand account of what they saw that fateful day in the woods and the effect that it had on his life. When Goulette was asked about his experience he stated, "I know what I saw – and it wasn't anything from this earth!"