Witness: Possible "landing" marks found after hovering sounds outside home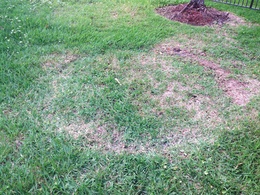 Alleged ground burn marks and indentations discovered after a strange "hovering" sound was reported outside a witness's bedroom window. Credit: MUFON
A witness in Florida has reported discovering possible evidence of a close encounter with a UFO.
The Coral Springs, FL, resident told MUFON (Mutual UFO Network) that he heard a "hovering sound" outside of his bedroom for about five minutes on January 30, 2014, but was too tired at the time to get up and take a look, a decision that he later regretted.
The unnamed witness thought at the time of the incident that the sound was from a hovering helicopter or low flying airplane.
About two weeks after the event, a landscaper pointed out to the witness unusual markings on the grass lawn near his window, where he had heard the odd sound.
"I mentioned this root I was standing on and not remembering it being there," wrote the witness.
"He brought to my attention that it wasn't a root and in fact was part of a circle that has formed. When I stepped back I was floored. There was a circle with burnt out grass in the center. This is when I put two and two together because it's right out my bedroom window. To be clear I never saw the object, but did hear it." Adding, "Wish I had."
The witness submitted photographs of the indentations and burn marks in his lawn and offered to send MUFON soil and grass samples. No further substantiation of the witness' claim was provided.