Witness feels "panic" as cigar shaped UFO descends over Indiana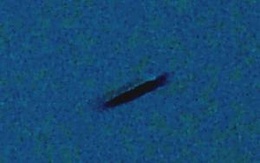 This cigar-shaped UFO was photographed over Richmond, VA, in April 2010 at about the same time of day that the witness reported seeing a cylinder shaped UFO over Anderson, IN.
Multiple sightings of a cylinder shaped UFO were reported on December 5, 2012 in Indiana.
A witness in Anderson reported seeing a very large and long, "black mass" that was "ruling the sky" at 5:30 PM.
The unnamed witness told the Mutual UFO Network (MUFON) that he was returning home with his 16 year old daughter, two younger sons, and their step-brother and step-sister when he noticed the UFO slowly "traveling toward earth" on an angle that made it appear that it "could crash."
The witness pointed out the object to his children in the vehicle, who all watched together as they continued to drive west for two miles on 38th Street in Anderson.
He described the object as "several times larger" than a conventional aircraft and "completely blacked out." There were no wings or lights observed on craft, and he said that it looked like "something out of a sci(ence-fiction) film."
The witness compared the shape and angle of the object to the forward slash symbol, " \" and said it had a "possible trail or heat signature at the top left of the object."
The witness was not sure if the mass had a distinct shape other than that it was much longer than it was wide, and could possibly be considered a "cigar or cylinder shape."
The object frightened the father, who lowered his window sun visor to avoid looking at the object. He reported feeling, "uneasy and scared" and drove home as quickly as possible. By the time that the family returned home the object was gone, which the witness said, "was fine by me."
A similar looking object was spotted earlier on the same day in Greenwood, IN, about 50 miles southwest of Anderson, and near Indianapolis.
The witness in Greenwood described the object as silent and fast moving.
"This solid, unlit object was a grayish, long and skinny cigar shape and was approximately a half-mile to maybe even higher and approximately 30 to maybe 100 meters long and 5 meters wide and made no sound as it went over me and made a slight left directional change as it went directly over Indianapolis and disappeared from my view."
Original (unedited) witness report:
December 5, 2012, 5:30 p.m., Anderson, IN - Very Large long slender mostly stationary or slowly descending black ufo. Case 44433.
I was returning home from picking up my daughter from her Mothers, traveling west on 38th st. I often gaze into the sky, day or night, Its just something I always do, so Im not sure what attracted me to the object, it or myself looking into the skyline. But a very large black mass, was ruling the sky, there was traffic, and I even seen a few pedestrians, that seemed to not notice or not paying it no attention, I remember thinking I wonder if I should stop and ask someone else their thoughts but I didnt, My Daughter 16 yrs, her brother and sister, not related to me, both under ages of 12, and my 2 sons, 5 and 4, all could see this object. So I knew it was something not just me going crazy. I remember feeling panicked, because the object seemed to be traveling toward earth, but very slowly, it was angled in a way, that made it seem like it literally could crash, the entire drive that I had this in my view was less than 2 miles, I positioned my sun visor, so I didnt have to look at object. I felt uneasy and scared, I got home as quick as I could safely, and asked my girlfriend and my daughter to go back to see the object, I couldnt see it from my home, and that was fine by me. AS I waited the few minutes they were gone, A helicopter flew overhead , we live near a hospital that sometimes airlifts patients, so Im not sure if that was related to my siting or not. My Girlfriend and Daughter returned home, and they could not locate the object My daughter and I and 4 younger kids had just saw, a few mins prior. I have no clue what the object was, but it looked like something out of a sci film, where it was located in the sky it appeared to be several times larger than a airplane, it was completly blacked out, I did not observe any lights, wings , I cannot say for sure the shape of the object, only that it was angled \ like this symbol, and seemed to be traveling or falling towards earth, a possible trail or heat signature at the top left of object, but it was not very noticable, and it wasnt always apparent. it was much longer than wider, and could possibly be considered a cigar or cylinder shape, but I could not make out any shapes, I cannot say for sure, if it was rounded , squared, only it was very large, and black.