Witness claims he and dozens of others watched triangle UFO off Florida ocean coast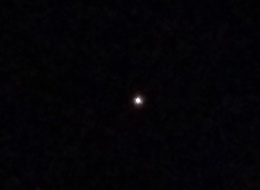 The witness took a photograph of the the craft, with only a bright light described to be on the underside appearing in the image.
A triangle shape UFO, estimated to be 50 feet in size hovered and "moved erratically" for hours off the coast of Jensen Beach, Florida, just south of Port St. Lucie, at 11 PM on March 2, 2014, according to a witness report submitted to the Mutual UFO Network (MUFON).
The unnamed witness, who works as an assistant manager for the restaurant chain, Golden Corral, described the object as a dark, grey triangle "with blue light around the perimeter" and a bright light on the underside.
He told MUFON that the object appeared to have "thick" structure and was about 50 feet long.
The UFO hovered, moved erratically and flashed lights.
When the witness flashed a halogen lamp at the UFO, the witness said that the object's light blinked off and back on again, giving the witness the impression that the craft may have been responding to his light.
The witness said that he took several pictures of the craft as it remained visible for seven hours, before gaining altitude and disappearing over the ocean.
He said that about three dozen people stopped and watched the object during the evening and early morning sighting. No other witnesses have yet reportedly stepped forward to substantiate the witness' claims. The witness also claimed to have seen UFOs "several times" before.