West Virginia mother and sons watch silver UFO hover over trailer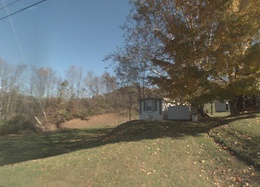 Approximate location and vantage point of UFO sighting by family. Credit: Google
A mother and her two sons in West Virginia observed a silver disc shape UFO with bright lights hovering above a trailer home on the evening of March 12, 2013.
The woman's husband reported to the Mutual UFO Network (MUFON) that his family was driving north on Interstate 79 from the Meadowbrook Mall in Bridgeport, WV, at about 9 PM when they noticed a "large, floating object" above a hill near the Saltwell Road exit.
They thought that the craft was a distressed airplane attempting to make an emergency landing, and followed it to a nearby park and ride lot while preparing to call 911. However, when they drove to where they thought the craft was headed, it was gone.
The mother and her sons continued to drive home along Route 131, but decided to turn back and take another look for the odd craft.
As they approached the park and ride lot from the opposite direction, the younger son told his older brother to "look to your right!"
The family saw a silver colored flying ship with large lights hovering over what was likely a trailer home.
They reported that the UFO "made no sound at all" and described its appearance as "looking like two pie plates together."
Despite its bright lights, the object did not illuminate the surrounding area, with the witnesses describing the quality of light as similar to a glow stick.
The mysterious craft then "tilted" and departed "at a high rate of speed," concluded the witness.
Original (unedited) witness report:
My wife and two sons (14 & 11) were coming home from the meadowbrook mall on Tuesday night at approx 9pm when they noticed a large floating object above the hill off of the saltwell exit. They thought it was a plane making an emergency landing so they turned around and headed towards the park and ride expecting to see it there and about to call 911 but it was gone. They continued down the road but still didnt see it. They turned around before Jerry Dove Dr. and headed back. Right before the park and ride my youngest son told my oldest "look to your right!" It seems it was hovering above a trailer. It tilted and then left at a high rate of speed. It was described as silver in color with large lights, looking like two pie plates together. The lights were bright but didnt illuminate the surrounding area kinda like a glow stick. It also made no noise at all. It is unknown what was seen that night.