Video of mystery object intercepting Russian meteoroid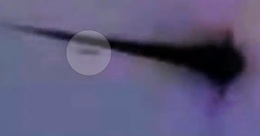 A reversed still image of an alleged, high speed cylinder shape object just before possibly colliding with incoming meteoroid over Russia last week.
A curious video taken of the meteoroid strike in Russia last week is going viral.
The Russian video was posted to YouTube and shows what appears to be a large, cylinder shape object racing from behind and colliding with the meteoroid as it enters the atmosphere.
At what may be a point of impact, meteor fragments explode forward from the slowing fireball. A similar cylinder shape object is then seen continuing to fly away from the front of the fireball at a much higher rate of speed.
If the object is not a visual artifact produced by the camera lens or a CG fake, it is an important development.
The notion of it being an interceptor launched by Russia or the United States, intended to break up the meteoroid before it hit earth is unlikely, given the technical requirements to accomplish such a feat and the tremendous speed of the alleged object.
If it was an interceptor, it may not have helped much anyway, as the meteoroid was in the process of breaking up in the atmosphere at the time of impact.
If an object did hit the incoming meteoroid and was not manmade, even larger questions emerge. Was it a UFO? And was it intended to protect us?
Not much is known about who posted the video, and the added production music does not boost its legitimacy.
Several video recordings were made of the incoming meteoroid. If other videos reveal the mysterious object, the existence of something truly phenomenal may be confirmed.