Unusual craft reported overnight in Ocala, Florida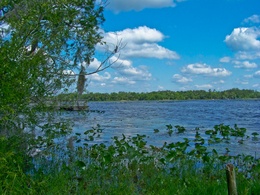 The unidentified craft was spotted near Ocala National Forest, Florida.
Residents of Ocala, Florida, have reported spotting a UFO in the early morning hours of March 18, 2013.
WKMG television news in Orlando reports that the object(s) were described by witnesses as resembling military style aircraft.
The aircraft were said to look like a group of helicopters flying in formation with a large plane.
Which is what it may have been.
However, when contacted about the sightings, a Navy spokesperson said that they do not conduct flights over a nearby bombing range in the Ocala National Forest between 2 AM and 3 AM, when the craft were spotted.
The Air Force in Tampa also said that they were not conducting flights over the area at the time, either.
UFOGrid will report any further developments.