UK Mail Online blunders with faked UFO video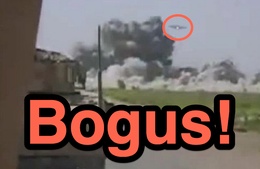 UK Mail falls for amateur video of faked UFO.
The UK's Mail Online has shot itself in the foot with a foolish article claiming to show a video of a UFO attacking a Taliban base in Afghanistan.
The article, published on May 14, 2014, went viral and the result is a big credibility blow for the online news service. If the Mail's reporter and editors had spent a couple of minutes looking into the authenticity of this video they would have realized that it is a 5 year-old video of a US Air Force attack on a bomb factory that was posted on December 22, 2009, with the new version flipped backwards and a faked UFO layered into the image. Perhaps, it was a disguised attempt at humor that fell flat.
Whoever pulled the video stunt must be feeling pretty proud of themselves. And advertisers on the Mail probably enjoyed the ride, too. Unfortunately for the Mail's editorial staff, their readers will have to keep a skeptical eye on their news reporting going forward, despite its commitment to reporting UFO news.