UFOs on Las Vegas Strip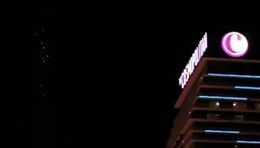 What happens in Vegas...
We publish this video, not because we believe it offers convincing evidence of alien activity in Las Vegas.  There is plenty of that to go around on ground level.  
This post is offered up as an entertaining psychological study, of how earthlings might react when confronted with a fleet of UFOs.
Would there be panic, or would people simply ignore it?  Would there be a rush for cover, and a run on food supplies and water?  Or, would it come down to an agonizing decision of whether to keep staring at the UFOs or stick with plans to see a George Wallace show?  Watch this video to find out.
The UFOs are likely birds playing an April Fool's joke on Vegas strip walkers by flying in wind blown patterns over the LUXOR Casino's space light-beam.  
However, the camera man's conversation with his girlfriend is as sincere as it is amusing, and offers real insight to what really matters between a man and a woman during a close encounter.  
Caution: Mature language.