UFO video from Argentina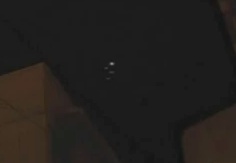 UFO over Argentina
A witness recorded a nearly three minute video of a UFO in Argentina this week.
The unidentified witness posted the video to You Tube, and did not disclose the immediate location.
The video offers a magnified view of a cluster of lights hovering above some buildings.   The lights remain uniformly spaced apart, and move out of view as a unified object.