UFO reports in Canada double in 2012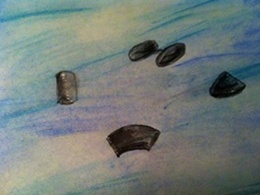 Witness illustration of UFOs reported on November 18, 2012 over Brossard, Quebec, Canada, near Montreal. Credit: Ufology Research.
Reported UFO sightings in Canada doubled in 2012 over the previous year, according to a study released this week.
Ufology Research of Winnipeg, Canada, compiled their 24th annual report from established researchers across the country, with the goal of providing data for serious research into the UFO phenomenon.
According to the latest survey, 1,981 UFO sightings were reported in 2012, or about 5 sightings per day. That's a 100% increase in reports over 2011, and shatters the 2008 record of 1,004 reported sightings.
The average UFO sighting in 2012 lasted 15 minutes, and 7.5% of the accounts remain unexplained.
More than half of the sightings were described as simple lights. Other types of UFOs reported include "point sources of light, spheres and boomerangs."
The report added, "Many witnesses are pilots, police and other individuals with reasonably good observing capabilities and good judgement."
The study's authors, Geoff Dittman and Chris A. Rutkowski, offered a variety to theories to explain the big jump in reported sightings last year. "More UFOs are present and physically observable by witnesses; more secret or classified military exercises and overflights are occurring over populated areas; more people are unaware of the nature of conventional or natural objects in the sky; more people are taking the time to observe their surroundings; more people are able to report their sightings with easier access to the Internet and portable technology; or even that the downturn in the economy is leading to an increased desire by some people to look skyward for assistance."
The authors concluded that, "Popular opinion to the contrary, there is no incontrovertible evidence that some UFO cases involve extraterrestrial contact."
They recommended that the upsurge in reports calls for further study of the phenomenon by social, medical and/or physical scientists.
Details of the 2012 study and their previous reports can be viewed online.