UFO photographed over New Orleans' French Quarter
Enhanced image of lights photographed over New Orleans's French Quarter on July 19th.
An amateur photographer in New Orleans photographed an image of a UFO in the French Quarter section of town on the morning of July 19th, 2012.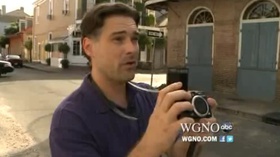 Witness who took photograph.
New Orleans' WGNO TV news reported (see below) that the man noticed strange lights in the sky at a distance of about four or five blocks away, over Esplanade Avenue and Dauphine Street.   The witness stood looking at the lights for moments, stunned by what he was observing.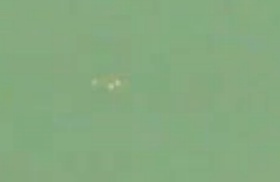 Photograph of lights.
The object shined its lights in his eyes, in colors described as "unfamiliar" by the witness.  The incident occurred at 6:30 am, as the witness was returning from taking pictures of the Mississippi River.  He snapped a picture as the object began to ascend.  He said the object was gone an instant later.
Gamma enhanced image of lights.
The witness, a New Orleans resident, said that he was raised on Air Force bases and is familiar with aircraft.  He said the color of the lights and their rapid movement defied everything he knows about aircraft, calling the experience, "life changing."