UFO over Queensland, Australia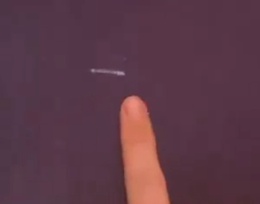 Witness points to UFO image captured by his video camera.
Infrared video of a UFO taken this week by a surveillance camera in Amamoor, Queensland, north of Brisbane, Australia, has made the news.
Resident Charlie Whaite, directed his security cameras skyward after his wife told him that she had observed strange lights in the sky.   
Initially, White pointed his security camera upward as a lark, but he soon discovered that he had captured the image of odd looking lights in the sky.
Whaite speculates that the object could be as simple as a toy helicopter.  He holds his own under imbecilic questioning by the snickering local TV morning host interviewing him.
The image closely resembles footage taken over Tijuana, Mexico, on November, 11, 2011, as reported by DBKP.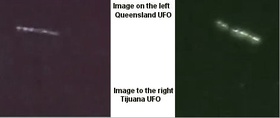 Similarities between the objects can be compared in the two videos.  
The Queensland sighting is featured in the local television news report:
The Mexican video features a similar looking object about five minutes into the clip: