UFO lights up New York Harbor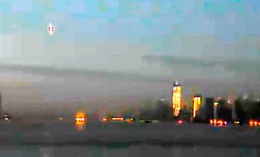 Flying object raises suspicions over New York Harbor
A video taken of New York Harbor looking north toward Manhattan Island from what appears to be Brooklyn, shows a bright light flying southwest over the harbor. 
At about two minutes into the video, the moving light is bright enough to reflect on the surface of the Hudson River.
The object's flight trajectory is steady, and makes no erratic movements. 
The video appears to have been taken during sunrise or sunset, as a low angle of  sunlight appears to reflect off the Manhattan skyscrapers in the distance.  
The light from the object matches the light reflected from the buildings, offering a possible explanation that the UFO may simply be a helicopter or fixed-wing aircraft that is reflecting the bright sunrise.