UFO images captured over Israel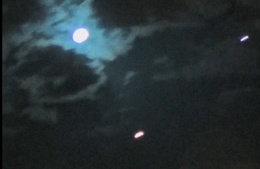 The can be seen as a light near the bottom of this frame. The moon is upper left and the third object in the upper right area is an airplane that was alo in the sky at the time. Credit: MUFON.
A family attending a late night bar-b-cue in Israel photographed and video recorded (see below) a UFO as it flew overhead on April 28, 2013.
Mali Hayun and her family were enjoying an outdoor dinner south of Tel Aviv after midnight when they spotted the bright orange object in the air, according to a report filed with the Mutual UFO Network (MUFON).
Hayun, a self described numerologist, said the UFO suddenly appeared to their left and flew a straight and steady course, and at a consistent speed.
The report was submitted in rough english, but the witness wrote that during the event, "No one could identify the object. It was something we never saw (before)."
Close up image taken of UFO.
Original (unedited) witness report:
Hello, i am [Name removed/cms/tg], I numerologist from south of tel aviv in israel.
my guests, me and My family went to BBQ near my home.
after midnight suddenly the object came from left side,this certainly
not was a fly - the object only Remains at the same height and it
traveled at a constant rate.
before the object we saw asmall airplane. the object was two kilometer
after the airplane and Low one kilometer from the airplane,
the airplane Was there all the time.
during of the event no one of us could to identify the object,
it was something we nevr saw.
we made the best we can and know to film the event.
after the Building bothered us Continue to see the object we stoped
to film in video.
thank you.