UFO crashes off Japan coast? Don't hold your breath.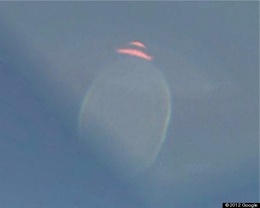 Alleged image of crashed UFO off the coast of Japan looks like Google Maps camera flare.
The internet is full of rumors today about an alleged UFO crash into the East China Sea just off the coast of Okinawa, Japan's southernmost island.
The reports include supposed statements tom Japan's Imperial Navy confirming eyewitness accounts of the crash.
There is an unsubstantiated photo of the supposed UFO that looks strikingly similar to camera lens reflections on Google map images taken in Texas and Arizona that were mistaken for UFOs in September, 2012.
No hard evidence or credible sources are associated with this wild story.  In the unlikely event that credible information surfaces, UFOGrid will report it to you.