UFO buzzes doomsday mountain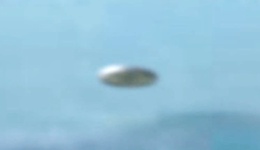 Images of similar looking UFO's have been posted in recent days.
Video of a UFO was allegedly taken over France's mountain, Pic de Bugarach, on March 28, 2012. 
The footage was reportedly taken by a German hiker and a Spanish mountain group, and shows the silver, oval shaped UFO ascending to the mountain's summit and overhead.
Pic de Bugarach is a popular focal point for doomsday believers who think it will be a noah's ark like refuge when the end end of the world occurs on December 21, 2012.
There are beliefs that the mountain's interior is home to aliens, and that people will benefit by being in it's proximity during the apocalypse, becasue the aliens will know how spare themselves.
All of which invites further scrutiny of the video's authenticity.
The object is similar to other sightings captured on videos that were posted in recent days from around the world, including the KLM sighting.