Twin UFOs photographed in UK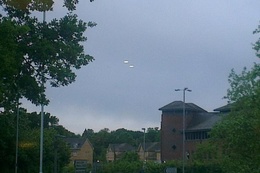 Steve Lambert's photograpgh of two discs over Harmans Water, UK, on June 14.
A photograph taken of two alleged UFOs over the skies of England on June 14, 2013, offers unusual clarity.
Steve Lambert , 42, of Basingstoke, was on a phone call outside of the Running Horse Pub in Bracknell, Berkshire, at 8 PM when he saw the two objects over Harmans Water.
"They were heading south-west at speed towards Basingstoke, quicker than any normal aircraft. They were there for less than five seconds," Lambert told getreading.co.uk.
If the objects were only visible for 5 seconds, the question could be asked of how Lambert had time to take a picture of them. It is possible, since he was on the phone and was possibly able to quickly snap a picture with his camera phone in hand.
Lambert posted his photo to Facebook, asking for opinions and hopes that other also saw the objects.
Another strange object sighting was reported about two miles away in February, although it may have been a meteor. A local columnist for an online news service reported seeing a "space object or meteor" over Bracknell, describing it as a "big re-entry, orange, bright red and yellow fire streaking across the sky for all of three seconds".
The area is west of London and just east of where many crop circles and unusual activity sightings are reported.