Triangle UFO encounter in UK called poetic justice by skeptical newsman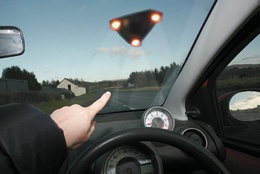 Illustration of UFO spotted over the Brecon Beacons, UK. Credit: Brecon & Radnor Express
Triangle shaped UFO sightings are a global phenomenon, with a recent wave of sightings reported by witnesses across the United States and Canada. Yesterday, a family in the United Kingdom reported spotting one in an area with a rich history of UFO sightings.
Richard Henley Davis, a newspaper editor in Wales, UK, witnessed the odd craft with his family as they drove home from a family meal in Beacon on the evening of December 11, 2012, according to a report by The Economic Voice.
As they drove east on A40 near the junction of B4458, Davis' youngest son saw two very bright lights moving toward the them at about 60 mph.
Davis said, "The lights appeared to be facing down towards the ground and there was no noise coming from the craft, it was silent and my wife found this to be very unnerving, as did I."
At first, Davis thought they were lights from a military aircraft on routine exercises, which is common in the Brecon Beacons area. Then saw the craft had no standard left side red wing light and that there were green lights on each point of what he described as "large black triangular shaped craft."
Davis said low flying military aircraft routinely fly overhead that "can frighten the daylights out of you, but whatever this was had an eerie silence. I have no idea what it was and hope for a logical explanation."
The newsman viewed his UFO encounter as a bit of payback.
"Having written quite disparagingly about other people's accounts of witnessing UFOs, it was a bit of poetic justice for myself to see one and my phone was in my pocket as I was driving so there was no opportunity to take a photograph."
"Ah well, there goes what's left of my reputation."
The Davis family was not alone in their sighting. Two other people in the newspaper business also reported seeing the triangle object.
34 year old Project Manager, James Clark and his partner 29 year old Laura Jones who is a graphic designer for the Brecon and Radnor Express also witnessed the strange craft.
Clark said "We saw what looked like a black, triangular shaped aircraft flying very low and silently above us at speed with lighting on each of its three corners."
Jones added "We both said we had never seen anything like it before."
Both the local police and the military denied that they had any aircraft in the vicinity at the time of the sightings.