Triangle UFO drifts over home- friend takes photo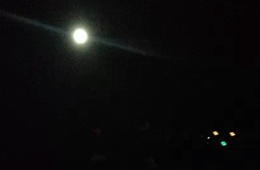 A friend of the witness also saw the UFO (bottom right) at a distance while driving in Vineland, NJ, and took a picture with her mobile phone. The bright light to the upper left is the moon as a cloud or contrail passed underneath.
A Vineland, New Jersey, couple was going to bed at about midnight when they noticed bright lights outside their second story window last November.
The unidentified woman told MUFON (Mutual UFO Network) that she and her fiancé got out of bed, looked out the window and saw that their home's front lawn was fully illuminated by bright light.
They looked up to the sky and spotted a triangle shaped UFO flying slowly over their home. The witnesses reported that the object was larger then their house and low enough for them to see the underside of the silent craft.
The UFO drifted slowly past their home toward the East.
The experience did not frighten the witness, who reported that it left her feeling a sense of awe.
The next day, the witness saw a photo of the object posted on Facebook by a nearby friend, who snapped a picture of the UFO at about the same she and her fiancé had observed it the night before.
The witness submitted their report to MUFON February 5, 2014.
Original (unedited) witness report:
My fiance and I were getting into bed in our second story bedroom. We both noticed bright lights out of our window. We both got up to look out our window. When we pulled the shade down, we noticed that the lights were so bright that it illuminated the whole front yard. When we looked up, we noticed the triangular shape. It was so low the I could see underneath the object. The object was bigger than my house. The object was completely silent. The object was flying to the east at a crawl. The next day, someone on my Facebook page posted a picture of it from a distance. At the time, I did not feel threatenee or scared, I was in awe. Photo attached is the photo my Facebook friend posted when she was driving the same night.