Travis Walton abduction witnesses reunite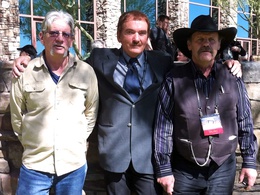 From left, John Goulette, Travis Walton and Steve Pierce
The 2012 UFO Congress wrapped up its annual meet today in Phoenix, Arizona.
Among the highlights of the conference was the reunion of three of the seven witnesses in the 1975 Travis Walton UFO incident.
UFOGRID interviewed all three witnesses, including Travis Walton.  
The interviews will be posted to UFOGRID in the coming days.