Triangle of bright lights hover over Michigan movie theater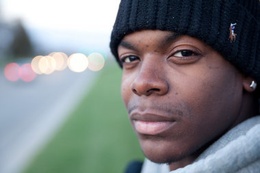 Denzel Washington, 19, of Flint, said of the UFO, "Now I know something is out there and I don't have to keep wondering. I saw it right here in front of my eyes, a clear view." Credit: Griffin Moores | MLive.com
Two brothers in Flint, Michigan, reported seeing a brightly lit UFO hover over a movie theater on the evening of November 11, 2012.
The Flint Journal identified the reporting witness as Denzel Washington, 19, of Flint. Washington works three jobs and told the paper that he's still overwhelmed by what he saw
On his call to 911, Washington said "I don't know if it was an alien but it was a UFO. I'm not under the influence or anything. I'm just psyched out."
Washington told the Mutual UFO Network (MUFON) that he had picked up his brother from work and was stopped at a traffic light when they noticed a triangle of lights hovering over the Rave movie theater complex adjacent to Interstate 75.
The two brothers initially thought that the movie theater had bright "stadium lights" illuminated for a special event. As they drove closer to the theater, they could see that the lights were not attached to towers, and they were not part of a helicopter because there was no sound coming from the object. Washington also said that the object was emitting a "bluish white nitrous flame from the exhaust."
The brothers became excited as they realized that they were witnessing a UFO.  They attempted to take pictures of the object, but one of their camera phones was out of power and their other phone was being used at the time for a conversation.
As they approached the hovering lights at a distance of about 200 feet, they could see the "entire ship."
The object was spotted hovering over the Rave Movie Theater in Flint, MI. Credit: Google
The UFO began to move as the brothers chased it down with their car.  As they reached the edge of the movie theater parking lot, the UFO suddenly vanished without leaving a trace.
The brothers called the local police to report their sighting and ask if any other witnesses had reported seeing the UFO. They felt that the police did not believe their story.
The Flint Township police sent a two officers to investigate afterwards, but they saw nothing out of the ordinary. The Federal Aviation Administration reported nothing unusual in the skies above the township Sunday night, but the FAA is only charged with investigating aircraft incidents and is not interested in anything further.
Washington knows that he will face doubters. "You just have to believe me," he said. "I don't lie."
Original (unedited) witness report:
November 11, 2012, 10:20 p.m., Flint, MI - Triangle stadium lights hovering quiet bluish white nitrous flame from the exhaust. Case 43864.
Was picking my brother up from work I was on the phone and as i was driving we got to a stop light and we seen bright lights over a movie theater by a high way. First we thought the theater had got like some stadium lights for a premiere or something but as the traffic light changed I asked him "is it on a stand!?" And he said "I think so" and as we was getting closer my first thought was planes dont stay still and theres no attachments and its not a helicopter because I didnt hear the propellers. And as I drive more we get parallel to the movie theaters and lights! And we both seen something that we would never see in a million years but it was a UFO! By now we was in shock and Im yelling at my brother to take a picture and him having a android his phone doesnt let him take pictures with a 5% battery, and Im on the phone so Im yelling and I tell the person Im on the phone with ill call them back! And as I Stopped in the street I jump out my car to a picture with my iPhone but me just getting off the phone my iPhone camera didnt open up fast enough. So now I am no more than maybe 200ft away looking at a actually UFO! Like the entire ship! NOT! Just a light nor a star! So now, it seems like the UFO has identified us noticing it and it starts to move and I really wanted a pic so everyone could believe me! I jumped back in my car and tried to chase it and before I can get to the end of the movie theatre parking lot "the rave" it had disappeared without a sign or a trace! After all that has happened I called the police and asked did anyone else call in about a UFO sighting because i just seen a ufo with bright lights like football stadium lights and we couldnt been the only people to see it but she didnt take me serious.