Third witness reports UFOs over Pennsylvania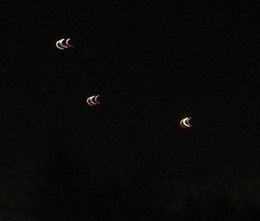 Photograph taken of three objects by a third witness in the Pennsylvania sightings of November 16, 2012. Credit: MUFON database.
A third independent witness has stepped forward with images of UFOs that were seen flying over Pennsylvania on the evening of November 16, 2012.
Multiple witnesses reported 8 sightings during an 11 hour period, from Connecticut to Michigan, according to the Mutual UFO Network (MUFON.) Descriptions of two of the sightings in Pennsylvania were closely related to this latest report.
The unnamed witness was driving in Willow Grove, PA,  at about 5:40 PM when they noticed three unusual lights flying to the southwest. The witness then saw two additional sets of the same, strange lights flying just behind the first set of lights.
The witness reported that the lights seemed unusual because they were not blinking like conventional aircraft lights, and that they "were flying close together in odd formations."
The witness took several images of the lights with their cell phone camera before losing sight of them.
After speaking with family and friends about the lights, the witness learned that several other people nearby had also observed the lights. The witness then discovered more reports of them online, and decided to submit a report to MUFON.
A second photograph of three lights in a triangle formation over Shelocta, PA, on November 16, 2012.
Original (unedited) witness report:
November 16, 2012, 5:40 p.m., Willow Grove, PA - Saw three sets of three bright glowing lights flying southwest in Willow Grove, PA. Case 44033.
I was driving towards the PA turnpike on November 16th, 2012 around 5:30 PM. When I drove over the turnpike on Davisville Road, I noticed 3 unusual lights flying southwest. I then noticed that there were 2 more sets of these lights flying right behind it. It came across as unusual to me because there were no blinking lights like on normal planes and helicopters. It was also strange that these air crafts were flying close together in odd formations. I immediately took out my cell phone and took as many pictures while I could. Most of them came out a little fuzzy, but I did manage to get a few good ones. I knew as soon as I got the pictures, what I saw was something special. I lost sight of the air crafts as I was driving away.
After talking to my friends and family, other people actually saw strange lights in the sky near my sighting. I decided to do research to see if anyone else saw anything that night and to my surprise, I saw an article that was entitle "8 UFO sightings in 5 states in 11 hours." Luckily someone else got a picture and it looked exactly on of the single crafts of what I saw earlier in the day right before dark. This made me want to report my sighting, in hope someone else got a better picture and maybe knows what it is. This is my first UFO sighting and I hope to see more.