The mysterious case of the Royston UFO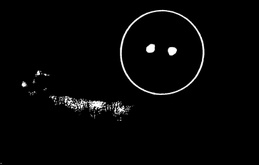 Photo of UFO over Royston on August 15, 2007
Just when you thought it was safe to go out... is there a mysterious UFO above Royston?
A local man says he spotted it hovering over the area late at night.
Doorman Paul Gerhard saw flashing lights in the sky at about 11.30pm and thought it was a plane or the police helicopter.
But after taking a closer look, he thinks be saw something more 'otherworldly'.
Paul, 29, of Wood Lane, Carlton, says he saw the lights as he was watching television. The bizarre object was hovering silently in the same spot before disappearing.
He said: "We saw the flashing and when I looked outside I said, 'that's no helicopter'.
"There were two red lights at the edge and a row of flashing lights in the middle. It was there for about a minute and half and then disappeared. It started high up and was hovering about. It was only slow then it just took off. As quick it was there it was gone.''
''There were no trails from it and there was no noise."
Paul spotted the UFO last Wednesday and said he was aware there had been meteor storms and shooting stars last week. But he added: "That was not a shooting star, It was weird. I have never seen anything like It in my life, it was definately something strange.
"I'm interested in all this stuff and when you see it on documentaries they say people see flashing lights and that's what it looked like. It was clear night and I know you can sometimes see lights from Monckton coking plant but there is nothing in the direction this was coming from. No house, no lights, nothing."
Paul showed the Chronicle a mobile phone video of the mystery floating object. He said: "If It had not been on my phone nobody would have believed me."