Thanksgiving UFO points light beam near Texas highway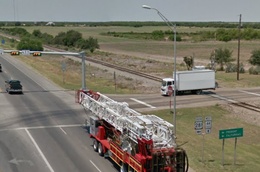 Intersection of Highways 44 and 281 where UFO was spotted.
Several witnesses reported seeing a UFO pointing a beam of light to the ground in Alice, Texas, on early Thanksgiving morning.
The Alice Echo-News Journal reports that about a half dozen people called the local police, and described the UFO as being round and about 100 feet long.
The witnesses said that the UFO was projecting a "light beam" just off Highway 44 near the Highway 281 bypass at about 1:00 AM on November 22, 2012.