Strange funnel cloud and light orbs in Texas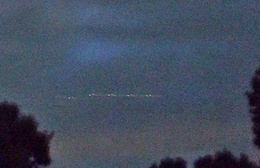 The witness photographed five strange lights as they passed under a mysterious and stationary "funnel cloud" in Texas. The camera may have been set to HDR mode, accounting for the triplicate image of the orbs.
A strange "tornado shaped cloud" and "five orb shaped objects" reported by a witness in Texas has been declared "unknown" following an investigation conducted by the Mutual UFO Network (MUFON).
The incident happened on August 20, 2013, in Cleveland, Texas.
The witness, who's identity was not released by MUFON, was home at 7:50 in the evening when they noticed a "white, tornado shaped cloud" hovering in a stationary position just above tree level outside their house.
Thinking that a storm was approaching, the witness took a closer look and noticed that the sky was otherwise clear blue, with no rain or thunderstorm clouds in view.
The lone funnel cloud hovering just over his trees was odd looking enough that the witness decided to take some pictures of it. That is when the witness spotted five light orbs, "that moved slowly under the cloud in a straight line."
The witness observed the lights "until they were gone."
The funnel cloud remained in place for another 15 minutes before it slowly disappeared.
MUFON's Star Team investigator, Charles Stansburge investigated the case, who concluded that the mystery lights were an "Unknown UAV" (Unmanned Aerial Vehicle), meaning that he was unable associate the objects with known aircraft.
Light orbs, sometimes referred to a "golden balls" are commonly seen, including over the England's crop circle region. The lights are so common in one area of Wiltshire, UK, that there is a hill named "Golden Ball Hill."
The source of the lights are unknown, and speculation runs the gamut from the phenomenon being meteorological in origin, like ball lightning, to an unknown natural, terrestrial energy source or an intelligently controlled UFO or form of energy.
Original (unedited) witness report):
looke out front of my house say a white torndado shaped cloud..it was stationary and hovered over the treetops..i thought we were going to have a storm but sky was blue and clear no rain or thunderstorms.I thought it was strange how long it hovered over trees so i took some pictures as i took the pictures i noticed under the cloud were five orb shaped objects that moved slowly under the cloud in a straight line and moved along until they were gone..the cloud stayed for 15 min then slowly disappeared.