Simliar object photographed over multiple states in October, 2012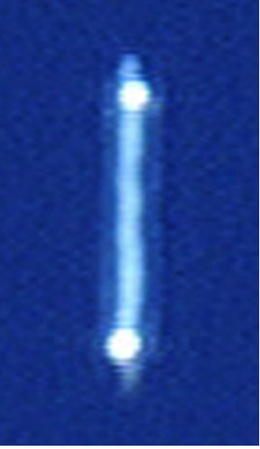 Balloon or UFO? Video frame of a translucent unidentified aerial object videotaped on October 18, 2012, between 3:15 PM to about 5 PM ET above Gardiner, NY. Credit: Bill Richards
Amateur astronomer Allen Epling made headlines last October when he photographed a UFO that hovered overhead for two hours near his home in Kentucky. Sightings of the object were reported over the region, and Epling photographed it through his telescope.
The account was later more or less dismissed as a common "solar balloon."
A similar looking object was spotted two days later by another group of witnesses in Gardiner, New York. As Bill Richards stepped out of his office in Gardiner, he noticed a bright flash in the clear, afternoon sky and saw a cylinder-shaped translucent object that did not appear to be moving.
Richards called to his two dozen employees to take a look and then grabbed a high definition video camera and took images.
The object again remained in view for at least two hours. Richards disputes the explanation that the object was a balloon.
Laurie Willow of The Gardiner Gazette reported on the incident:
Gardiner Resident Bill Richards stepped out of his office at Skydive the Ranch on Sand Hill Road a little after 3 PM on October 18, 2012 and saw a bright flash in the sky. High above him was a cylinder-shaped translucent object that wasn't moving. Bill called his two dozen employees in a nearby hangar to come outside and bear witness, and went to one of his helicopters that has a high-definition, built-in camera.
Like Kentucky resident Allen Epling, who had reported a similar siting two days before, Richards stayed outside for at least two hours until some high cirrus clouds moved in. He accumulated fifteen minutes of high-definition video and remains mystified about what large, cylindrical object could remain in the same spot at a high altitude for at least two hours—and why?
"Something I had never seen in the sky before was up there," Bill says. "It stood out because it didn't move. Usually everything in the sky moves somewhere! It's not feasible that this object could be stationary without some kind of propulsion! But in all my years of flying and observing, I have never seen an object like this. I say this is baffling!
Richards called Air Traffic Control. Planes coming from Europe or Toronto travel down a jet way that comes by Albany and passes just about five miles west of Gardiner, at 12,000 feet. "I was more or less trying to warn aviation controllers that, 'Hey, there's something in the air near the jet way and it's sitting there! And it's a serious-sized object way the hell up there!'
"I told Air Traffic Control that from where I stand, I don't even know, maybe 25 miles. This is the angle, this is the compass heading. " He heard them talking to airliners and asking them if they had seen anything out to the east, but never heard the airline pilots respond.
As far as Richards is aware, no one called police, fire or airports. "I'm the only one who called TRACON, which is Air Traffic Control in the New York sector. Nobody called me back. So I kept going on the internet; couldn't find anything. Then I finally went to UFO sites and got this thing called Mutual UFO Network. We saw an article about Pikeville, Kentucky, and NBC and this guy, Allen Epling. I looked at his videos—that's it—the same thing I saw!'
Bill Richards says the big question in his mind is why, at a time in which terrorism is at the top of the priority list of the U. S. Government, the authorities aren't interested in high altitude, unmoving, unidentified aerial objects.
"I think they probably have a protocol that says, 'If anyone sees anything Top Secret, just freakin' deny it!' He had already called the Federal Aviation Administration and says, "They weren't even interested—nothing. They don't want to know from Adam. That in itself may be seen as an order to remain silent. I would surely love to know what that thing was!