Google says secret project responsible for UFO sightings across U.S.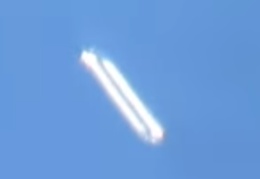 Google claims that the UFO reported over the US in 2012 was one of their test balloons gone wild.
A secret Google project was responsible for creating a UFO sighting frenzy across the United States in 2012.
The UFO story broke in Pike County, Kentucky, on October 16, 2012, and was reported by UFOGrid. A video of the sighting was posted by amateur astronomer Allen Epling, of Virgie, KY, who observed the unidentified object with friends for two hours.
A local newspaper, Appalachian News-Express and then national news outlets including CNN picked up the story, reporting that Kentucky State Police had received several calls about the object as it slowly flew overhead in broad daylight.
A similar sighting was reported soon after in upstate New York.
Epling was excited by the prospect of seeing a UFO, but many speculated at the time that it was a balloon. It was.
About a year after the sightings, Google X fessed up about their secret program called "Project Loon" and admitted that the UFO Epling saw was a high altitude balloon that got away from them during tests for a network of floating internet transmitters.
Google X's idea is to fly a series of balloons in high altitude wind currents, each carrying a radio transmitter beaming internet access to people below in the world's remote areas.
Only about a quarter of the world's people have access to the internet, through traditional means. Google hopes to expand internet access globally.
Project Loon launched many test balloons beginning in 2011 and they claim only two got away from them. One of the missing balloons was seen over Kentucky and later New York. It was eventually retrieved in Canada.
While it flew overhead, the balloon created a mass UFO sighting phenomenon. Google wanted to keep their experiment a secret and did not let on what was happening.
In fact, Project Loon leader Richard DeVaul and his team monitored UFO news reports to track the balloon as it floated over surprised witnesses.
DeVaul detailed for the first time what happened to an audience at Smithsonian Magazine's "Future Is Here Festival," held last weekend in Washington D.C.
"I can tell you about one of the unexpected things that happened," he said. "We created mass UFO sightings across the US."
DeVaul identified the UFO as the "Falcon 11," a 120-foot long, clear mylar balloon made by the secretive Google X lab.
"This is a balloon that went rogue," DeVaul added.