SEALS- Not UFOs spotted over Los Angeles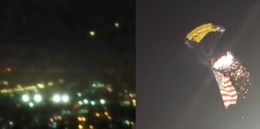 Hovering lights seen over Los Angeles (left) were parachuting Navy SEALS on the way to a USC football game (right). Credit: YouTube.
Several UFO websites are running hot over multiple videos taken of "UFOs'' hovering over Los Angeles on Saturday evening, September 5.
Even the Huffington Post UK posted the story, without verification.
Spectators heard in one video taken from the Griffith Observatory in the Hollywood Hills sound excited about the prospect of witnessing UFOs. The video shows lights appearing to hover and disappear, then reappear as they slowly drift to earth, close to a cluster of stadium lights.
The witnesses excitedly concur that they saw a trail of light emanating from the objects after they flew through the sky "like a shooting star."
The witness who shot and posted the video, Chris Montague, who was with a group of friends from the area speculated that the lights were many miles away, over Long Beach, CA, or over a military base.
In fact, the UFO's were Navy SEAL paratroopers landing on the playing field of the LA Coliseum before the first University of Southern California (USC) football home game of the 2015 season, a USC spokesperson told UFOGrid.
As a second video shows, the SEALs made the jump, carrying sparkler flares as they descended onto the playing field.