A reflection on UFO news reporting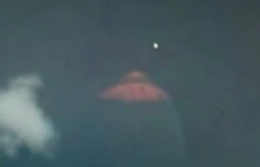 Alleged UFO image in East Texas Google Maps image was buzzing this week.
When it comes to covering UFO news, sometimes you're damned if you do and damned if you don't. Just ask Jamey Boyum.
UFOGrid's editorial policy is to filter out noisy UFO news stories and sighting reports that are clearly faked or obviously without merit.
But there's always one that gets away and feeds major news outlets with derisive, grist for the mill UFO storytelling.
This week's likely fish tale was a story out of Jacksonville, Texas, about an alleged Google maps image of a UFO hovering over a Taco Bell restaurant, discovered by a Houston woman looking for driving directions.
ABC's Good Morning America picked up a piece filed by witty KLTV 7 correspondent, Jamey Boyum. Mr. Boyum was assigned the unenviable story on the "buzz" surrounding the alleged UFO image, which is likely a camera lens flare, reflection or some visible artifact, and not unique to Jacksonville/Google street photos.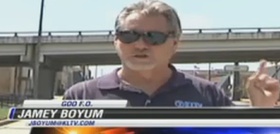 Reporter Jamey Boyum investigates.
The enterprising Boyum did would every reporter must on a slow news day, he padded his story with vox populi.    
So, what happens when a TV news truck pulls up and asks a startled bystander to look at a picture of a "UFO" taken in the neighborhood? At the very least, the flattered interviewee feels obliged to give the camera an engaged-sounding response, like, "wow."
When you ask a stupid question, you'll likely get an equally banal answer. And this TV report does not disappoint.