Rectangle UFO reportedly appears and vanishes over Allentown, PA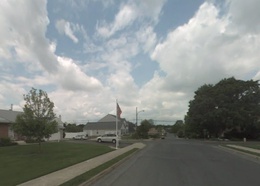 Allentown, PA, residential neighborhood
A witness reports observing a rectangle shaped UFO over a residential development in Allentown, Pennsylvania, on April 5, 2012.  Roger Marsh reports for the Examiner:
A Pennsylvania witness at Allentown reports watching a "dark brown or black rectangle with a white border around it" that appeared to be floating above a residential development before quickly disappearing from view, according to April 7, 2012, testimony from the Mutual UFO Network (MUFON) witness reporting database. 
The witness was visiting parents in the same neighborhood and was heading home when the object was first seen. 
"I was going down a street and the street looks up a hill and the open sky pops through the trees and houses," the witness stated. "In front of my car in the sky just above the trees was a dark brown/black rectangle with a white border around it. It looked like a floating box. I couldn't imagine how a box would be floating in the air. I looked for lights and there were none that I saw." 
 The witness described the object. "There was no noise at all. It moved horizontally straight, slowly, and silently." The witness reports that there was another witness to the event. "As I was gawking at the thing in the sky, I noticed a man in a red pickup truck craning his neck as well." The object disappeared from view quickly. "Instead of turning to go home, I followed it and poof, it was gone. I even drove around some of the surrounding streets to locate it. I was amazed and a little nervous about what I had just seen." 
No images or videos were included with the MUFON report, which was filed on April 7, 2012. The event occurred on April 5, 2012. Allentown is a city in Lehigh County, PA, population 118,032. The above quotes were edited for clarity.

 
Original witness report: 
PA, April 5, 2012: 
Rectangular UFO lehigh valley Pa. MUFON Case 37168. I stopped by my parents house (18103) after work and was driving home thru their development. I was going down a street and the street looks up a hill and the open sky pops thru the trees and houses. In front of my car in the sky just above the trees was a dark brown/black rectangle with a white border around it. It looked like a floating box. I couldnt imagine how a box would be floating in the air. I looked for lights and there were none that I saw. There was no noise at all. It moved horizontally straight, slowly, and silently. As I was gawking at the thing in the sky, I noticed a man in a red pickup truck craning his neck as well. Instead of turning to go home I followed it and poof, it was gone. I even drove around some of the surrounding streets to locate it. I was amazed and a little nervous about what I had just seen. This is now the third time in my life I have seen UFOs. I have never seen one so up close and during the day. Freaky. I am not happy that I did not react fast enough to find my camera and take a photo