Purple saucer hovers for 2 hours over Lima, Peru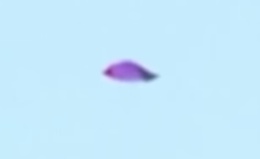 The purple colored flying object was observed over Lima, Peru, for 2 hours on February 10, 2015
A purple colored UFO was videotaped by a television crew in Lima, Peru, on February 10, 2015.
The disc shaped object was observed in clear daylight conditions for nearly two hours over Lima's Miraflores neighborhood near the Pacific Ocean. No images or witness accounts have yet surfaced of the UFO departing.
The UFO, which hovered near a construction site has yet to be explained, and the possibility of the object being a drone, balloon or kite has not yet been ruled out.
A local TV show, "Alto al Crimen" was shooting an interview with the program host, Lima Congressman Renzo Reggirdo when the crew noticed the UFO in the background. The crew turned its attention to the strange flying object, and videotaped it for several minutes.
The disc shaped object featured a large, bright purple mass in the center, and tapered off to thinner and darker colored edges.
A local chapter of the Mutual UFO Network (MUFON) in Peru is investigating the sighting.