Possible UFO response to witness seen on video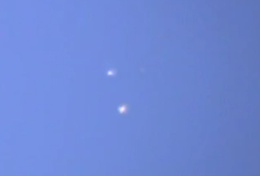 Image of UFOs near Helena Montana. May 7, 2012
Witnesses to UFOs and other forms of high strangeness sometimes report that the object they encountered appeared to respond to their thoughts.  
In what may be a documented example of the phenomenon, a witness near Helena, Montana, posted a video of a flying object in broad daylight on May 7, 2012.
In the video, the unidentified witness and his female companion discuss the glowing object as he records the sighting, telling his friend that he felt compelled to step outside with a camera just before he spotted the object.  
The shooter goes on to explain that this is not his first sighting, and laments how he did not capture the image of a second, fast-flying object in a previous encounter.  Moments later, at 5:45 into the video, a second flashing object streaks through the camera frame, to the excitement of the witnesses.
Whether a series of coincidences or not, this video may offer a rare illustration of why some witnesses come away from an encounter with a sense of having shared a form of telepathic communication with a UFO.