Is Port City the top UFO hotspot in North Carolina?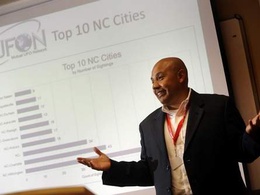 Mutual UFO Network field investigator and data analyst Israel Curiel talks to about 50 visitors at the Northeast Branch Library recently about an increase in UFO sightings in the Cape Fear region. Wilmington ranks No. 1 in the top 10 cities in North Carolina for UFO sightings, according to Curiel's group. Photo credit: Jeff Janowski
From Star News Online:
Israel Curiel, director of public relations for Mutual UFO Network of North Carolina (MUFON-NC), spoke with conviction as he addressed a capacity crowd at the September meeting of the organization Sept. 15 at the Northeast Regional Branch, 1241 Military Cutoff Road.
Initial nervous energy quickly turned to a supportive gathering of kindred spirits. People from all walks of life report seeing UFOs. And the composition of the audience at the meeting reflected this fact. Retirees and college students, professionals and blue collar workers, believers and those who still hope to see their first real evidence - they all gathered to share crude sketches and enthusiastic tales of their personal experiences with the otherworldly.
Curiel shared statistics, images and data he has compiled regarding sightings of unidentified flying objects from around the state.
"Quantifying it (the data on sightings) makes it more tangible. I want to show you the types of objects reported," he said. "In the last 18 months, there has been a significant increase. North Carolina is very active. The only ones that outrank us are California and Texas."
According to the MUFON database, the Wilmington area is overwhelmingly the top UFO hotspot in North Carolina, with 81 cases reported so far in 2012. By comparison, Charlotte came in second with 43 sightings and Winston-Salem has had only nine cases this year.
"Wilmington … that's way larger than the rest," said Curiel. "There is a lot of activity along this coast."
Curiel addressed a common explanation for UFO sightings locally – that the nearby military bases are conducting exercises or testing equipment. "I know we have a lot of military aircraft around here," he said. "To my knowledge, our aircraft do not hover without making noise."
Though MUFON-NC has seen an active year so far with 4,500 cases, Curiel bets there are many more sightings that have gone unreported. He said, "Some people don't want their names associated with UFO sightings. It's understandable. It can ruin your career."
A MUFON volunteer, Curiel said his day job is with a conservative company, which he declined to name. To date, he has experienced no backlash for his belief in UFOs but admitted such potential discrimination crosses his mind occasionally. But his conviction is so strong after seeing a UFO in May 2011 in Hickory that he refuses to remain silent.
Curiel displayed an illustration of the object he believes to have been a spaceship. "This is a boomerang. We sat out. We're looking at the sky. We see a boomerang-shaped craft. When this thing crossed, it did not make a sound."
Unfortunately, Curiel and his fellow investigators were unable to capture a photograph that night. He said, "I've got a camera on my chest. I'm in shock. We didn't get a shot. Since that day, I am not afraid to say, 'UFOs are real.' This is what I saw; and it was real."
Two of the local attendees, Brandon Kirby and Jared Parker, shared an experience they had Sept. 12 while fishing. The duo talked about orange lights they saw in the night sky.
Kirby said, "Wednesday night, me and Jared were fishing off of Snow's Cut, right by the bridge. It was real strange. They faded in and out in a matter of seconds and reappeared in a different spot. It was pretty crazy. We never even put our lines in. We were watching the show."
Parker added, "I thought it was fireworks or something. At one point, there were eight or nine lights."
Kirby and Parker said they checked with relatives and friends later on and found out other people had seen the lights as well.
Curiel related that many people have seen similar lights, which non-believers attribute to meteors. "Recently, North Carolina and South Carolina have had a dramatic increase in orange fireballs," he said. "Meteors don't stand still; they don't hover over trees. There is no real way to tell why we have increased activity."
Following the meeting, Curiel and the attendees met for dinner at South Beach Grill at Wrightsville Beach.
Later that evening, the group held an official MUFON Skywatch at 209 Waynick Blvd., Wrightsville Beach. When contacted the next day, Curiel reported that no conclusive data was gathered that evening.
As the TV program "X-Files" said, "The truth is out there." Regardless of whether that truth is airplanes, meteorological phenomena or visitors from another world, Curiel and the other members of MUFON-NC will continue to look to the skies to find it.