Picture of UFO taken over Dutch medieval castle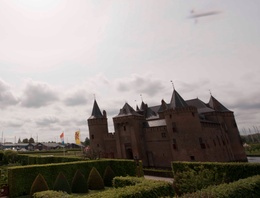 Image of UFO over Muiderslot Castle, near Amsterdam. Credit: Elyktra Photoart
An image of an apparent UFO taken over a medieval castle in the Netherlands is making news worldwide.
Local resident and amateur photographer Corinne Federer, 43, was visiting the Muiderslot Castle, near Amsterdam on May 25, 2013, when she snapped the picture with a high quality camera and wide angle lens. She shot the image in HDR mode, taking multiple images at once. Her shutter speed was 1/250 of a second, so the object had to be moving very fast to have blurred in the photo.
Though Federer dismissed that the object was an insect flying close to the lens, the possibility cannot be ruled out, especially as she described the object as having abruptly changed direction.
If it is not an insect flying close to the camera lens, it is an intriguing image. Federer did not see the UFO when she was taking her photos, but noticed the image later as she was reviewing her pictures.
"It was a tubular-shaped object that had an S-shaped fin on it. If it had been any type of missile, it would've had multiple fins, but facing the same direction. We heard nothing, it was completely quiet out. The more I flipped through the frames, it was kind of creepy," Federer told the Huffington Post.
Close up of UFO over Netherlands Castle. Credit: Elyktra Photoart
Original post from Corinne Federer:
While reviewing the photos from the Muiderslot photography meetup, I came across something very interesting. Actually myself and everyone who has seen the images so far are dumbfounded. I've been shooting for quite a long time and have never encountered anything like this. Let me explain the images before you take a look and decide for yourself. I was shooting with a very wide angle lens Nikon 14-24 which can capture quite a large scene. It was shot with a Nikon D800 with is a 36mp camera so also very detailed when blown up. I was also shooting HDR which means I was taking multiple exposures at once. In this case it was 5 exposures. All five shots were taken within 1 second and the shutter speed on the images in question is 1/250 of a second. This means something would have to be moving very fast to be blurred in the scene. There were no aircraft present, no vapor trails as you can see in the subsequent images. It is definitely not a bird and I've mostly rule out any insect based on the apparent distance from my position in the image. Here's where it gets more interesting. In the +1 shot, you can see it again…coming from the opposite direction!! It appears to have turned around. It seems to be traveling in the direction where the two fins are as you can see some sore of trail coming off from left to right. I've duplicated the two images where it appears and changed to greyscale and adjusted the basic settings and detail only using camera raw to get a better look. Anxious to hear your opinions about what this might be! You can click on the image to get to the gallery of photos. Please post comments on the actual Blog and not FB if you are finding this there so we can keep one conversation going (click on the comment link at top of post to enter comment if you don't see a box to do so). I've kept the original untouched imaged in raw format on the card and copies in case this gets interesting. Enjoy!!