Photo-journalist grabs UFO photo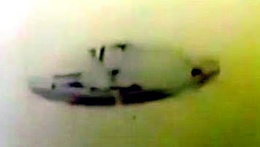 Image of UFO taken by South American photo-journalist.
A photo-journalist in Colombia, South America, reports that he captured an image of a UFO. The description of the event from the YouTube posted video that has since been taken down by the poster:
Video extracted from a news report from Colombia of a flying saucer shaped UFO-OVNI taken by photojournalist Edgar Malagon.

He was working on a documentary in the 'oil city' of Barrancabermeja located in northeastern Colombia.

The photo journalist, Edgar Malagon, who worked for the mayor of Barrancabermeja, said that while on photography work for a documentary on the oil city of Colombia, his camera captured images of two UFOs that were in the vicinity of the oil complex.

He claimed that the two UFOs, perfect ovals, were going at high speed and were at a distance no greater than one kilometer from him.