Peru reopens UFO investigations as sightings increase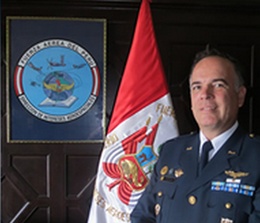 Peruvian Air Force Director Colonel Julio Vucetich responds to public concerns over the UFO phenomenon.
Peru's Air Force has reopened official UFO investigations this week after a recent wave of sightings in the South American country (see video below.)
The Agence-France Press reports that Peruvian Air force personnel will team up with a variety of scientists including astronomers, archeologists and sociologists to analyze witness reports, looking to establish sighting patterns, including where and when they occur.
The Department of Investigation of Anomalous Aerial Phenomena (DIFAA), an office within Peru's Air Force, originated in 2001 and then shut down in 2006 due to what was termed "administrative problems."
Peruvian Air Force Director Colonel Julio Vucetich said that DIFAA is open again because of, "increased sightings that are occurring in the country and that people are reporting to media."
There have been media reports of multiple sightings of luminous objects for several days in the central Andes town of Marabamba.
Vucetich indicated that the move was a response to citizen concern stating, "who observe seemingly unconventional phenomena, which cause surprise or concern, know that there is an institution that will study and research your information."
Colonel Vucetich added that DIFAA's "task is to organize, direct, control and collect information available to investigate and develop records and reports, as well as sorting and processing, filing and custody cases involving these phenomena from the standpoint of national security."
Peru's Air Force decision contrasts deeply with the U.S. Air Force's institutional denial of UFOs or any interest in investigating the phenomenon, at least publicly.
Peru joins other South American countries including Chile, Brazil, Ecuador, Uruguay and Argentina, who publically conduct official investigations of the UFO phenomenon.