Pair of triangle UFOs reported in Vermont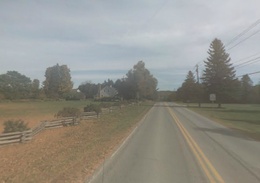 Eastbound Route 111 in Derby, VT. Credit: Google.
Two witnesses in Derby, Vermont, claim to have seen two sets of triangle shaped white lights, each with a pulsing red light in the center.   
The witnesses reported to The Mutual UFO Network, (MUFON) that they were driving east on Route 111 at 9:10p on May 6, 2012, when they spotted the craft hovering silently overhead.
The two sets of lights began to move in exact formation and the witnesses gave chase, at times reaching 80 mph.  But they could not keep up with the UFOs and the mysterious objects soon flew over a wooded area and disappeared.
Despite being on the lookout all evening, the witnesses did not see the lights again.

Original witness report:


 (2) 3 white lights in triangle shape with a red light in middle.
Driving eastward on Rt 111 in Derby Vt, approx 9:10 pm on May 06, 2012 my friend Dave and myself noticed (2) sets of white triangle shaped lights with red lights in the center. The center red lights were pulsating. They appeared to be hovering. NO noise was heard. 
As we continued to observe the objects they began to move simultaneously with the exact same movement/pattern. We decided to speed up to see if we could get closer to the objects for a better look. We were now traveling at approx 80mph. We could not keep up with these objects. Then the objects reached the wooded area and disappeared. 
We got back home, and went for binoculars and cameras to if we could relocate the objects. Nothing, continued to check throughout the rest of the evening but they did not reappear. 
This was observed as the second evening of the super moon, as it was just rising over the tree line. Very bright. 
Please note: There are no military bases in the area, or airports in close proximity to where these lights were observed. 
Will say that it was a very eerie feeling, seemed time passed very slowly. 
Once objects started moving, everything seemed to happened very quickly.