Orange orbs video recorded in Massachsetts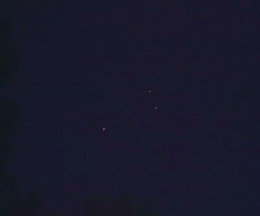 Orange orbs over Plymouth, MA, May 27, 2012
Orange orbs were spotted over Massachusetts on Sunday, May 27, continuing a wave of recent sightings around the world.
Local publication, Wicked Local, reported that Plymouth resident, Felicia Femino, a journalism student, was "stunned" when she and a group of friends observed, "unidentified orange orbs in the night sky," during a Memorial Day cook-out at her West Plymouth home.
Femino called the local airport as they watched the "bright orange fireballs." An airport official told her that they were also watching the lights, and that the sight was "the strangest thing he's seen in the sky in many years."  
Femino said she had obtained audio recordings of pilots in the area discussing their sightings of the orbs.
The lights "traveled in a loose formation and in clusters over a period of about a half hour," according to Femino.
Femino posted two short videos of the orbs to YouTube.  Warning: profanity.