Orange orbs and triangle lights reported in AZ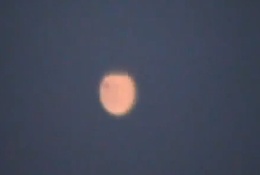 Similar looking orange orb photographed over Los Molles, the western region of Chile, on March 14, 2011.
Orange light orbs and light triangles have been repeatedly spotted in the past month by a family of ranchers in Yucca, Arizona.
The witnesses, who live in the area about 20 miles northeast of Needles, California, have reportedly seen the strange lights for about a month.
A source close to the family told UFOGrid that the orbs appear to be of an orange color, and the sets of three lights that appear in a triangle formation are possibly attached to an unidentified flying craft.
MUFON received a report of orange orbs spotted hovering at a low altitude on Monday (9/23), in an unspecified area of Arizona.
The witness told MUFON, "They are west of Tucson. We have seen then regularly. The orbs start with one and split into 2-5 orbs. We looked at them through night vision and they appear to be black orbs."
UFOGrid will report more news as it develops.