Orange orb spotted over Canadian Capital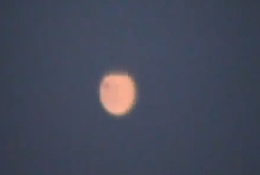 Similar looking orange orb photographed over Los Molles, the western region of Chile, on March 14, 2011.
A large, orange orb was seen over Ottawa, Canada, on Saturday, May, 19, 2012, according to the MUFON (Mutual UFO Network.)
The reporting witness observed the object with their father-in-law at about 10:30 in the evening, while they were having a smoke together in backyard of their home.
They described the UFO as a glowing, orange circular orb, slightly brighter on the bottom and all orange colored on the top, not unlike a hot air balloon.  They reported that the UFO's altitude was not too high, and moved silently, but at too rapid a speed to be a balloon.
The object flew a steady course from west to east, and vanished over the horizon. The witness estimated their sighting lasted for about 20 seconds.
The witnesses reported seeing the orbs about 90 prior after a series of orange orbs were reported about 1000 miles to the south over Grayson, Georgia.
Original witness report:
It was approx. 10:30 pm Saturday may 19 2012. My father in law and i were having a cigarette in my backyard. He noticed it 1st. He pointed and said look at that. We couldn't explain what it was. It wasn't a jet or a plane or a helicopter. We were baffled. It was a glowing orange circular orb like object. It made no sound at all. It seemed to be brighter on the bottom and and glowing on the top all orange. Almost like a hot air balloon. Not sure if they fly at night or not? But it moved to fast across the sky to be a hot air balloon. It moved across the sky from left to right (west to east) in a straight line at about the height a helicopter would fly. Not to high. There was no engine sound at all. Strangely quiet. It only lasted about 20 seconds and then vanished over the horizon.