New Year's Eve UFOs reported over California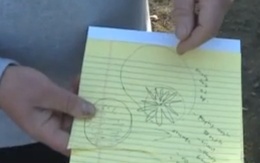 Hans Mauth with an illustration of the UFO he and his wife observed on New Year's Eve over Auburn, CA. Credit: News 10, Sacramento, CA.
A series of UFO sightings across California were reported on New Year's Eve, making national news and straining explanation.
The story took flight when a television station in Sacramento received many calls from viewers who claimed to see UFOs that evening.
A couple in Auburn, CA, northeast of Sacramento, reported observing a silent, egg shaped illuminated object drift over their neighborhood. Terry and Hans Mauth reported that a bright beam of light was projecting upward from the object before it suddenly accelerated from sight.
In nearby Sacramento, resident Steven Brown told television News 10 that he saw a similar UFO over Belle Cooledge Park. Brown described the object as hovering for about a minute before "it took off at a high rate of speed."
See the local News 10 coverage here:
Two other sightings were reported in Stockton and Los Angeles on the same evening. In Stockton, Kaye Pinlac saw several "bright orange colored lights" flying in formation before they began to separate.
A video of a similar sighting over the Hollywood Hills in Los Angeles just after midnight on New Year's Eve was posted to YouTube. Those two sightings point to the probability of Chinese lanterns, not a stretch considering that the Los Angeles lights were spotted just after midnight on New Year's Eve, amid celebratory fireworks.
Terry Mauth dismissed the idea that what she and her husband saw was a lighted, floating lantern, claiming that the object they observed was too large and moved too quickly to be a drifting balloon.
FAA spokesman Ian Gregor told News 10 that no unusual flight activity reported that evening by pilots or air traffic controllers.