New trend in UFO hunting- "Sky fishing."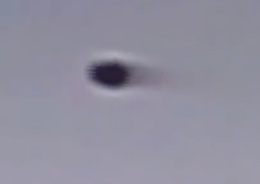 Image of UFO captured by surveillance camera pointed toward the sky.
As we progress (or digress) into a surveillance society, where our movements are tracked by video cameras in just about every public and private space by government, retailers, homeowners and even ourselves, there is an upside. More cameras are catching strange flying objects.
Cameras focused on security and privacy invasion are inadvertently recording what appears to be UFOs.
The trend has inspired a popular movement to record UFOs, called "sky fishing." People are pointing security cameras and standard video camcorders toward the sky, and setting them to record continuously in both the visible and infrared spectrums.
And results are appearing. UFOs have been recorded over Los Angeles and other areas worldwide. The images are usually fuzzy and inconclusive and often obvious fakes. Some of the objects could be birds, or other prosaic explanations. Yet, some images are more compelling.
Sky fishing is an emerging tool for UFO watchers, and is beginning to attract media attention. Carlos Clemente prepared a report on the phenomenon for the Mexican journalist, Jamie Maussan.