New Mexico police officer watches egg-shaped craft take off (1964)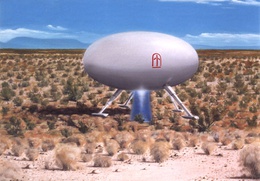 Artist illustration of the craft Officer Zamora witnessed. Zamora stated that it is a good representation of what he observed, though he felt that the "legs" might have been extended slightly further than portrayed. Credit: Chris Lambright.
When Socorro policeman Lonnie Zamora saw a white, egg-shaped craft rise off the ground near the White Sands missile range, some 30 miles northwest of the world's first atomic blast, one thought occurred to him – run!
"I was scared," Zamora told news media two days after his April 24, 1964 encounter, admitting that when the craft took off, he ran as fast as he could.
Zamora said he was chasing a speeder about 6 p.m. when he heard an explosion. He investigated and spotted the UFO in a dry arroyo about one mile south of Socorro.
From a distance of 150 yards, he could see that the UFO was about the height of a car, but larger, and was made of a shiny aluminum-like material. It was supported by four slanted, girder-like legs – and standing beside it were two figures dressed in white. He got within about 100 yards of the object but could no longer see the figures. When he walked to within 20 feet of the UFO, it suddenly rose up, hovered 20 feet off the ground, then flew slowly upward until it faded from sight.
Zamora's sketch of the object he saw.

New Mexico State Police Sgt. Sam Chavez arrived on the scene a few minutes later and found a smoldering mesquite bush and four imprints where Zamora said the craft had been. A military investigation of the site – conducted by Maj. William Connor and Sgt. David Moody from Albuquerque's Kirtland Air Force Base – confirmed the burned bush and four small depressions in the ground.
Zamora was called a "very reliable witness" by U.S. Army Capt. Richard T. Holder, uprange commander of White Sands' Stallion Range.
Zamora retired early over ridicule from fellow officers.
Zamora said if he had it to do over again, he still would have run away from the UFO, but would not have told anyone about the experience.
Nine years later, Zamora told the Associated Press the Air Force still had not provided him with an explanation for what he saw. He said he remained convinced that he saw exactly what he described, but said "I wouldn't have any idea what it was."