This never-before seen photo of a football-shaped UFO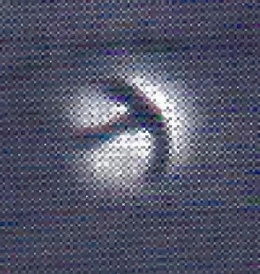 This is the photo of a football shaped UFO flying over a Russian city that convinced an expert it was real.
The cadets saw the grey-white coloured UFO hovering in the city at around 5pm local time with a pink "halo" around it.
It hovered above them for around six minutes and even appeared to slightly decrease in size, before it vanished, leaving a smoky trail in the sky.
The supposed UFO appeared a few weeks after school children claimed to have seen three aliens emerge out of a large, shining ball.
Vasya Surin, Zhenya Blinov and Yuliya Sholokhova, who were playing in a nearby park, spotted a three-eyed alien around 10ft tall and dressed in silver overalls, come out of a deep red coloured ball, a report from Soviet news agency TASS claimed.