Angry pilots help push Navy to draft UFO reporting guidelines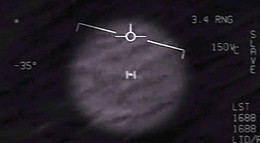 A gun camera image taken from an Navy fighter jet chasing a UFO over the Pacific Ocean in 2004. The UFO is visible between the brackets in the center of the photo.
In response to irate pilots, the U.S. Navy is beginning to publicly acknowledge their interest in UFOs by changing the culture surrounding their ranks' encounters with high strangeness.
There is abundant evidence that the highest levels of U.S Government and Military have maintained a hidden interest in "unexplained aerial phenomena" (UAPs) as they call them, since at least WWII .
The U.S. Navy confirmed with Politico that it is drafting new guidelines for all sailors, including pilots to report contact with UAPs.
The Navy's move to put more sunshine on the subject is meant to encourage witnesses to step forward when they see something unknown for reasons of national security. One person's UFO may be another country's new secret weapon.
Traditionally, military personnel along with commercial pilots and law officers were discouraged from speaking out about personal encounters with UFOs because doing so was a career killer.
Chris Mellon, a former deputy assistant secretary of defense for intelligence and staff member on the Senate Intelligence Committee told the Washington Post that pilots were getting angry by being shunned and ignored about their UFO encounters.
"I don't believe in safety through ignorance," Mellon told the Post, saying that the intelligence community lacked "curiosity and courage" and a there was a "failure to react" to a spate of UFO sightings over US airspace since 2014.
The Pentagon rocked the world in 2017 when it released video images of UFOs photographed by FA-18 Super Hornet fighter pilots over the Pacific Ocean southwest of San Diego in 2004.
However, the Navy's move does not mean full disclosure by any means. It won't say who they are briefing about what people are seeing or even offering details of the new guidelines.
But it is a step in the right direction for the Navy to acknowledge that UAPs are real enough to warrant an official channel for witnesses to report sightings.