Mysterious blue light over Scotland still mystifies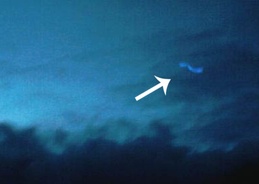 One of four pictures Taylor snapped of a strange looking, blue light on February 1, 2013.
News continues to surface about a mysterious blue light that appeared over the skies of Berwickshire, Scotland last month.
A local resident has come forward with photographs that he took of the light that appeared on February 1, 2013.
Paul Taylor was driving home from Berwick to Duns, when snapped the images.
He noticed the strange light when he was reviewing his images on a computer a week later.
He decided to share his pictures after reading local press accounts of the sighting which was reported by several witnesses.
John Robson of nearby Coldstream was walking his dog at 8:45 PM when he saw what he later described as "a large orb."
He told the local newspaper, The Berwick Advertiser, that it was a distinctive, lime green colour but changed to completely white before heading off silently to the north.
Some have speculated that it was a party light from a local Ball that night. Others think it was the northern lights.
Taylor hopes that his photographs shed light in the mystery and added, "I have no idea what it is."