Multiple witnesses see similar UFO in North Carolina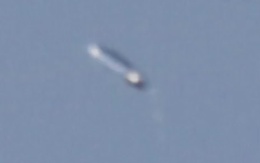 Image of UFO taken over North Carolina on January 25. Credit: Bret jones
Multiple witnesses in North Carolina have reported seeing a similar looking UFO, with a video of one sighting going viral.
According to the Charlotte Observer, the "strange 'pill shaped' object" was seen with pulsing lights in daylight skies on January 25 near Greensboro, North Carolina.
A video of the craft was posted by Bret Jones, who claims he was taking videos of birds when he recorded the strange flying object.
"I noticed a strange flashing light in the sky near an airplane. It was moving slowly in the sky, a little slower than the planes flying around," Jones narrated on his YouTube video. "I did not think I captured it at all, because the focus would only hunt and not lock on."
Jones shows that similar shots taken of passing airliners at altitude remained in focus when he zoomed in his lens, making the other object all the more mysterious. He later magnified his video by 900 percent and slowed down the speed to get a better look at the fleeting UFO.
What he saw was a "glinting pill shaped" object with bursts of light flashing from both ends of it.
"When I saw it, it just blew me away because it was not what I expected at all," Jones said. "I don't know what that is."
Other witnesses had trouble video recording the UFO, claiming that the object appeared to "warp in and then out." Julia Hejnar posted a video on YouTube claiming to have seen a similar looking object in Winston-Salem on the same day.
"It happened so fast. It blinked out just like that!" Hejnar said.
Another witness claims to have seen the same flashing object "at night for the past year."
One skeptic said it was a mylar balloon with a tether but Jones said that does not explain for the flashing lights and the object quickly vanishing.