'Motherships' over Russian city for three nights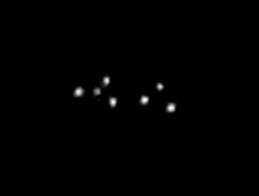 Massive UFOs were video taped over St. Petersburg, Russia for three consecutive nights.
Large clusters of light spheres were witnessed over the skies of St. Petersburg, Russia, over a three night period in early April.
Over 20 separate witness videos of the sightings have surfaced since the three nights of sightings on April 9-11.
The lights resembled previous sightings reported over the city in March.
The lights have been dubbed "motherships" by witnesses and reporters.  The videos show odd flying characteristics, including one light rapidly descending from a higher altitude and into the larger cluster of lights.  Witnesses described the lighted object as flying into the larger object, or "mothership."
Russian officials attempted to explain away the sightings as military flares being used for MIG fighter training maneuvers. The notion of low level jet fighter operations over a densely populated city was dismissed by observers.   Witnesses claim no MIG fighter jets were seen or heard during the three nights of sightings, some of which lasted 15 minutes or more.
Police were called to investigate one of the massive objects as it hovered over an airport at an altitude of less than 3000 feet.
Jamie Maussan reports.